Key Features
Let us help minimize the adminstrative burden on your company's financial department. The Zuyd Finance Lease Accounting Wizard provides timely and accurate information regarding your lease portfolio in compliance with IFRS 16 standards. Easily manage and process changes within your lease contract portfolio with some of our handy features.
Flexible reporting
Generate IFRS compliant lease accounting journal entries, disclosures, amortization schedules and cash flow schedules at various levels within your organization, for any time period.
Contracts at a glance
Contract management is easy with our dashboard. Get notifications about when your contracts end, should be indexed, and expiry of termination or extension options so you can make timely updates to your lease portfolio.
Process contractual changes
Easily process changes including indexations, contract extensions or early terminations, impairments, or COVID-19 related rent concessions in compliance with IFRS 16 requirements.
Learn more
---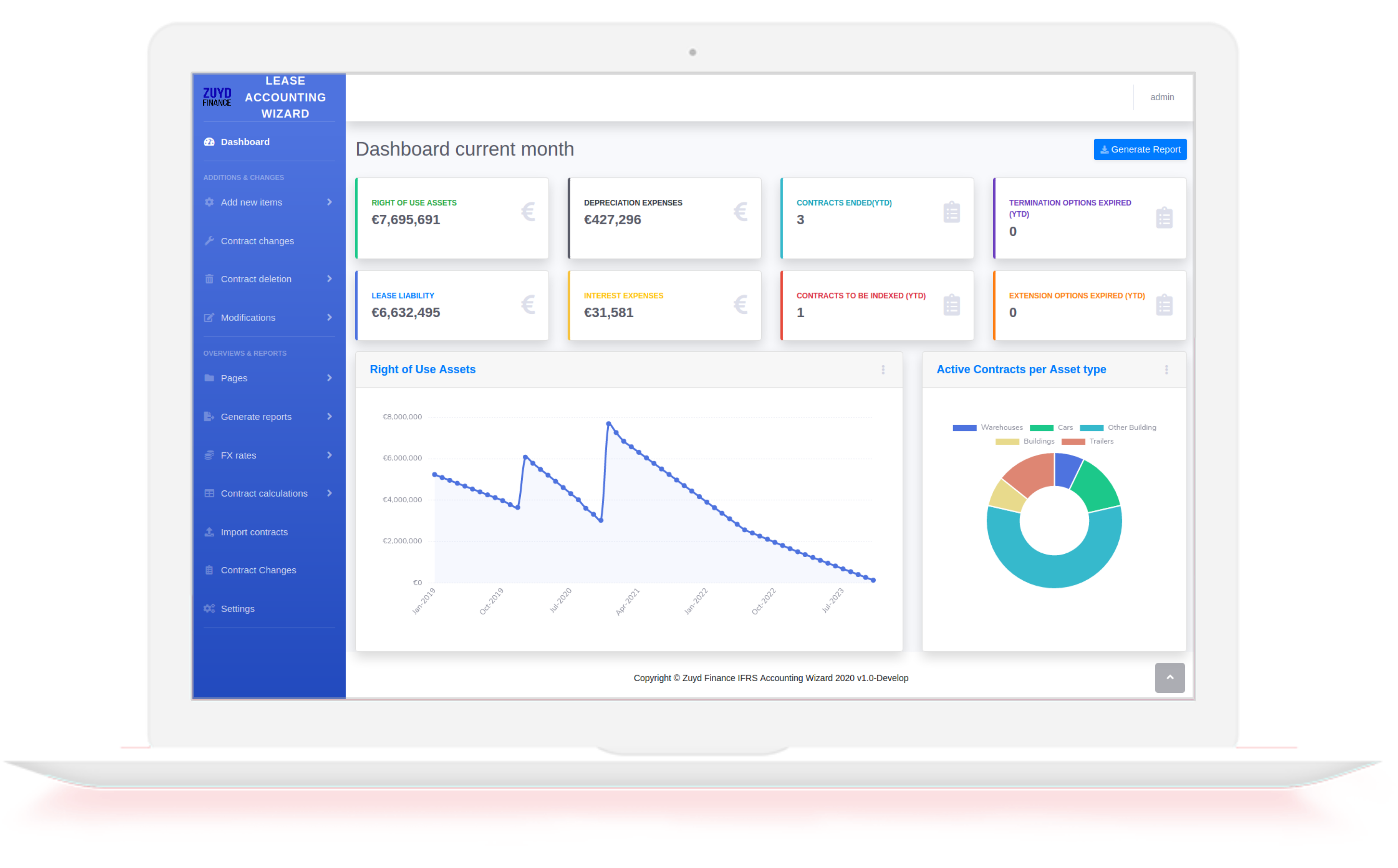 Save valuable time -- perform your complex IFRS 16 calculations with our Lease Accounting Wizard
Intuitively create, update and manage legal entities, cost centers and asset types
Easily process contract indexations, reassessments, impairments, disposals and COVID-10 rent relief
Stay always up-to-date with the latest FX rates with automated FX conversion
Get a comprehensive overview of the financial and operational status of your lease portfolio with the dashboard
Easily follow mutations within a contract with its own separate audit trail
Learn more
---
Our flexible pricing
We know that one size does not fit all.
We offer custom pricing solutions to match the needs of your company based on the amount of lease contracts in your portfolio -- you pay only for what you need. The price is not based on the number of users as we believe that price should not get in the way of collaboration. Everyone within your organisation will be able to benefit from the time savings and access to timely information with our application.
Contact us to request a price quotation tailored to suit the needs of your organization. For the most accurate pricing, please provide specifics of your company size and lease portfolio.
Request quotation
Why choose our service
Cloud-based
Round-the-clock availability and multi-user access guaranteed with our Microsoft Azure-hosted web application.
IFRS compliant
Contract calculations and disclosure reports are fully IFRS compliant and verified by Dutch CPAs.
Rapid calculations
Fast calculations and report generation with our optimized framework for minimum wait times.
Our customers
Here are just a few of our satisfied customers in the Netherlands and the rest of the world currently using the Lease Accounting Wizard.






Get your free trial account today
Contact us for a no-commitment consultation and try out the Zuyd Finance Lease Accounting Wizard with a free trial account.
Contact us
Get in touch with us! Let us know how we can help.
Nederweert, The Netherlands

info@zuydfinance.nl